If you're planning on going away from home and can't take your pooch with you, then you're usually looking at a few options. You can either put your dog into a boarding home for the duration, or choose to have someone stay at (or visit) your home and look after your pets. Both of these are tried and true methods. The one you pick can be reliant on what your dog is like around other people, and strange dogs.
When your beginning to think about going away on holidays. The question of what to do with the family dog (and other pets) is probably your first thought. If you're flying to a destination then taking them with you is probably out of reach. Especially if you're travelling overseas. Getting the dog there is not really a problem. However, for the return, you may be facing up to six (6) months of quarantining for your pet!
In some cases, people simply do not travel when they have a pet because they do not know which is the best option; or that they have any options at all! With the rise of the gig-economy in Australia, we are seeing a resurgence of cheap and affordable home sitting options. People are looking for an extra way to earn a few dollars, especially with general labour jobs, such as house and pet minding and dog sitting. If you're going away even for a short trip, having someone stay at your home and look after it, and your pets is an excellent option. In this article, we'll uncover what is good, or bad, about boarding kennels. We'll also look at home pet sitting can be a great option for the health and wellbeing of your pets.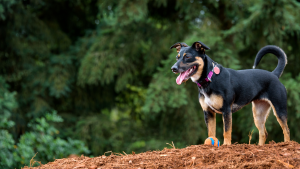 About dog boarding and sitting
The main difference between dog boarding and sitting is that one is where your dog goes to a location and gets to stay with other dogs. It's also looked after by a professional team of dog behaviourists. The other is that your dog gets to stay at home where they may feel more comfortable and relaxed.
Most states in Australia have a set of rules and regulations for how boarding kennels are to be run. Often this will cover the minimum standards for accommodation, exercise requirements, restricted breeds handling, and the general management and care of the dogs under their control. Check the requirements in your state before booking your dog in for a stay (NSW, VIC, QLD, WA, SA, ACT, TAS & NT). When considering any boarding kennels, you should ask for a tour and see the working kennels. This should give you a good idea of how well your dog will be looked after. If at any time you feel uneasy, then it's probably a good sign that you shouldn't leave your pet there.
House and pet sitting.
House sitting requires a person to either stay at your home or visit according to a schedule that you set. With home sitting your pet lives in the environment that it is familiar with. It is recommended that you invite the person looking after your animals to come around a few times so your pets get used to them. This way they are not confused when this stranger starts showing up! Before settling on the sitter you're going to employ check if they have any references. This can help you work out if they are going to be the right fit for you and your dog's needs.
Most of the time the decision on if a boarding kennel or a pet sitter is best for you and your dog, will depend on the individual dog. Does your dog become bored and destructive? Then a boarding kennel may be the best option. It is unlikely, they'll be bored with plenty of fellow pooches to play with. If your dog is anxious around other dogs, or in an environment that is unfamiliar, then choosing the pet sitting option might be the better way to go.
For older dogs, it is usually best to keep them with what they know the best, so in that case the pet sitting option is ideal. Only you know your specific animals, therefore you are the best person equipped to make this choice. If you have other animals to care for, such as fish or cats, then going with a pet sitter can save you some money as you'll only be paying for one service instead of two or three!
Pet boarding is a popular choice among many pet owners. However, finding one that fits in with your requirements can be challenging. You need to do your homework and some research to get the place that is right for you. Gone are the days of simply putting a dog into a run and letting them out for a few hours a day.
Now boarding kennels can offer much more than the basics. Many boarding kennels are rebranding themselves as 'pet hotels' where your pets can go for a holiday! A few of these elaborate hotels include CCTV (close-circuit television) cameras so you can see how your furry children are doing while you're away. Other inclusions that you may find in some boarding kennels are swimming pools, interactive toys, high-end meals (including freshly prepared raw meat), and of course playtime with other 'residents.
While all of that is fun, one of the most important aspects of a boarding kennel is access to veterinary services in case of an injury. In picking the boarding kennel that is right for you, you can look at the benefits on offer. This may include security options, the routine for your pooch, how they will be entertained, and how staff are trained.
Naturally the more you're willing to pay, the more benefits you'll have to choose from. For best results make a list of what you're seeking from a boarding kennel and choose one that ticks all of the boxes. If you can't find a kennel that satisfies your requirements then it may be best to arrange for a pet sitter to look after your dogs in the comfort of your own home.
There are many benefits to using a boarding kennel to look after your dogs. However, its often the cost that is the main factor that stops people from using them as a long term solution. If you're going away for longer than the weekend, it may be best for you and your dog to arrange for a pet sitter to stay to look after the house and take care of pooch business!
For short term stays, your dog going to a boarding kennel can be great for a quick escape and break from the usual. Just like us, they may get great benefits out of staying in one for a couple of days. Just a short stay to hang out with some other dogs and to get a hundred and ten per cent attention may be just the thing to reinvigorate and entertain your furry friends.
Before going to any boarding kennels make sure that your pet vaccinations are all up to date, along with their flea, tick and working treatments. It may also be an excellent time to have your vet perform a general health condition check-up.
Are boarding kennels bad for dogs?
It all comes down to the boarding kennels that you choose. If you pick the wrong one it can cause problems for your dog. No matter how fancy the place may seem, if they are not doing things the way that your dog is used to, it can cause some issues.
Before you make a selection, have a look at any reviews left about the boarding kennels you're thinking about using. Unfortunately, our dogs cannot tell us if someone was mean to them or they were treated poorly. Therefore, we need to be extra vigilant in finding a suitable kennel that will give their best attention and patience to our animals.
Any interruption to a regular routine can cause issues. If you think that your dog may struggle with a new environment, then staying at home may be the best option. Here they know what is happening, and what the locals are like (e.g. neighbourhood dogs, birds, cats, etc.). Your home is the place that your dog will generally stress the least. Provided someone is giving them care and following all instructions, they will get on just perfectly!